Super Tech X is New Hampshire State certified to help businesses become certified for Electronic Data Interchange (EDI) NH Road Toll Tax submissions.
Your business may be paying a substantial amount each month to communicate your road toll tax information to the State of NH.
The State of New Hampshire has a limitation on the number of monthly transactions that can be uploaded to the State Road Toll Tax system via Excel spreadsheet.  That limitation means that in a single month your business can only upload one spreadsheet, containing 1000 of your client transactions.  If you attempt to upload a second spreadsheet, it will overwrite the first.
Anything beyond the 1000 client transaction limit must be manually entered into the state website.  This process is very time consuming and will likely generate many overtime hours.  An alternate system is the use of an online conversion service.  They will allow you to upload your information to them and they will return you an EDI file ready for submission.  However, those services can cost between $300 and $3000 per month.  Such yearly costs can contribute substantially to your businesses overhead.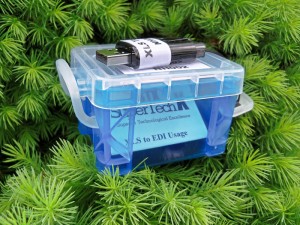 With our software solution, your business can own a custom built software package that will end monthly accounting expenditures.
Your business will own its means of conversion of NH Road Toll Tax information to EDI format.  Super Tech X stands ready to re-customize our software packages to meet future changes to tax format.
Note: Our software package is designed for the Windows Operating System.  (Vista, 7. x86/x64) Windows 8 and 10 are not yet supported.
Demonstration Video
Testimonials
"Mark and James worked tirelessly to develop software that converts my Excel (.xls) spreadsheet to a valid EDI file in seconds. It used to take me several days to input data manually on the State website that was over the State's 1000 line maximum using Excel.  SuperTechX software eliminated all that and it now takes mere minutes to upload and verify my data. I highly recommend their services."
Vicki LeCain, HR / Bookkeeper – Simple Energy Partners, LLC – West Lebanon, NH
(603) 298 7200 – vicki.lecain 'at' simpleenergyonline.com
Current Pricing Schedule
Customized software package:

$2000.00 USD (Includes 1 seat)

Additional seats:

$500.00 USD per seat (dongle)

Broken dongle replacement:

$100.00 USD (With receipt of broken dongle)

Upgrade and additional development rate:

$90/hr
Super Tech X is pursuing EDI certification in other states.  If you are interested in having us develop a software solution for you needs, please contact us.
For further information, please contact us:
E-mail Address

Office